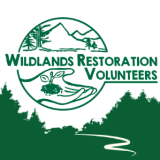 Wildlands Restoration Volunteers
Headquarters Location
2100 Collyer Street
Longmont, CO 80501
United States
Opportunity Type
One-time recreational experiences
One-time stewardship experiences
Paid internships
Unpaid internships
Volunteer positions
Ages Served
11, 12, 13, 14, 15, 16, 17, 18, 19, Post-High School
Wildlands Restoration Volunteers is a community organization focused on engaging the public in volunteer stewardship of public lands. We organize restoration projects such as building sustainable trails, planting native shrubs, removing invasive weeds, and much more. Projects focus on important work that relates to big issues facing our environment, such as mitigating the local impacts of climate change or restoring lands damaged by wildfire. Youth participants can choose from a variety of projects and programs, from attending a half-day project with family to joining our youth leadership program, which meets regularly during the school year. We are always excited to connect with youth who have ideas about how they want to contribute, and our programs are responsive to the interests and needs of young people.
WRV works closely with natural resource professionals and with local universities, and participants have opportunities to work alongside faculty and graduate students, connect directly with professionals, and learn about careers and green jobs from folks in the field.
The majority of programs are volunteer-based. However, in partnership with several other organizations, we do offer some paid opportunities. Youth are also able to use volunteer and leadership programs as service hours for school or to meet internship requirements.
Work Examples
WYLD - the WRV Youth Leadership Development Program - is a year-round opportunity for youth to connect with friends, volunteer and explore Colorado's public lands, and build leadership and outdoor skills