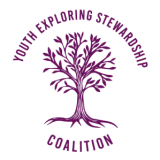 Youth Exploring Stewardship Coalition
Headquarters Location
2100 Collyer Street
Longmont, CO 80501
United States
Roles
Stewardship Projects
Community Education
Focus Area
Food Systems
Forestry
Land Management
Outdoor Stewardship
Parks and Recreation (including interpretation/education)
Volunteer Stewardship
Water Management
Wildlife
Opportunity Type
One-time recreational experiences
One-time stewardship experiences
Paid internships
Seasonal jobs - summer
Unpaid internships
Volunteer positions
Ages Served
14, 15, 16, 17, 18, 19, Post-High School
The Youth Exploring Stewardship Coalition is a coalition of organizations, primarily along the Front Range, who engage young people in environmental stewardship, leadership, and service. In collaboration with our partners, we offer opportunities for youth to get outside, connect with peers, make a difference, and lead their communities in meaningful environmental change.
Work Examples
Youth Exploring Stewardship Conference - A 2-day annual conference for youth to explore stewardship, natural resources careers, and more.
Youth Advisory Council - A paid opportunity for youth to plan events, consult on real environmental projects, and more.