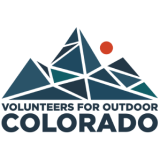 Volunteers for Outdoor Colorado
Headquarters Location
600 S. Marion Parkway
Denver, CO 80209
United States
Opportunity Type
One-time stewardship experiences
Other
Seasonal jobs - summer
Volunteer positions
Ages Served
14, 15, 16, 17, 18, 19, Post-High School
Volunteers for Outdoor Colorado (VOC) is a leading statewide nonprofit organization dedicated to motivating and enabling people to become active stewards of Colorado's natural resources. Each year, VOC engages thousands of volunteers of all ages, interests, and backgrounds through our outdoor stewardship projects. We believe that everyone can play a part in caring for our state's treasured resources. Today in Colorado, the need for volunteer engagement and a focus on stewardship is greater than ever before due in large part to population growth, budget cuts, rising demand for outdoor recreation, and increasing natural disasters. Since our founding in 1984, VOC has engaged more than 125,000 people to get involved in and become inspired to care for Colorado – a total donated labor value of $25 million.
Work Examples
Founded in 2008, Volunteer for Outdoor Colorado (VOC)'s Cairn Youth Program engages high school students throughout the school year in monthly outdoor activities and stewardship projects across the Front Range. Led by young adult mentors, students develop leadership skills, make new friends, learn about environmental issues facing Colorado, explore career paths, and have a positive hands-on impact through stewardship projects.
Through the Grossman Scholarship Program, VOC annually offers two $10,000 and four $5,000 scholarships to eligible Colorado residents who have demonstrated a commitment to caring for our environment's natural resources and intend to pursue post-secondary education through an accredited environmental, natural resource, climate, or outdoor industry related education program in Colorado.
VOC hosts over 70 public volunteer projects each year from April through October. Each project takes place on public lands – from city gardens to state parks and national forests – and range in difficulty, duration, and work type. No long-term commitment or prior training is required.