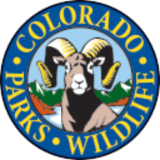 Colorado Parks and Wildlife
Headquarters Location
6060 Broadway
Denver, CO 80216
United States
Roles
Recreation Experiences
Stewardship Projects
Community Education
Research
Mapping
Data Collection
Marketing
Communication
Administrative
Customer Service
Focus Area
Fisheries
Land Management
Parks and Recreation (including interpretation/education)
Wildlife
Opportunity Type
Full-time jobs
One-time recreational experiences
One-time stewardship experiences
Paid internships
Part-time jobs
Seasonal jobs - spring/winter/fall
Seasonal jobs - summer
Volunteer positions
Ages Served
16, 17, 18, 19, Post-High School
The mission of Colorado Parks and Wildlife (CPW) is to perpetuate the wildlife resources of the state, to provide a quality state parks system, and to provide enjoyable and sustainable outdoor recreation opportunities that educate and inspire current and future generations to serve as active stewards of Colorado's natural resources.
At Colorado Parks and Wildlife, we are committed to keeping Colorado special; we believe in protecting and conserving Colorado's state parks, wildlife and outdoor lifestyle. We manage and protect lands, waters and wildlife for the people of Colorado. We are leaders in conservation, outdoor recreation and wildlife management.

For more than a century, our staff have worked to ensure the health and future of Colorado's state parks and wildlife through cutting-edge science, innovative conservation practices and meaningful experiences.
Work Examples
Law Enforcement (Park Rangers and District Wildlife Managers)
Wildlife Conservation (Terrestrial & Aquatic Wildlife Research, Hatcheries)
Support Staff/Other (Educators, Customer Service, Administrative, Aquatic Nuisance Species Inspectors, Maintenance and Property Technicians)