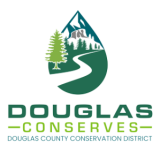 Douglas County Conservation District
Headquarters Location
7519 E HWY 86 / PO Box 688
Franktown, CO 80116
United States
Roles
Stewardship Projects
Community Education
Focus Area
Agriculture
Air Quality
Energy
Environmental Law and Policy
Fisheries
Forestry
Waste Management
Water Management
Wildlife
Opportunity Type
One-time recreational experiences
One-time stewardship experiences
Summer camps
Volunteer positions
Ages Served
11, 12, 13, 14, 15, 16, 17, 18, 19, Post-High School
Our mission is helping people help the land by promoting projects through education to further sustainable use of natural resources, balancing the needs of agriculture and urban growth. We connect people to conservation resources like conservation planning, fire and noxious weed mitigation grants, college scholarships, grade school curriculum to name a few.
Work Examples
We offer college scholarships each year to a Douglas County resident!
We offer Boy Scout Eagle projects and Girl Scout Gold Award projects hosted at our stream restoration partnership.
We fund a young adult to Camp Rocky annually. This award winning camp is held every summer in Divide, Colorado.