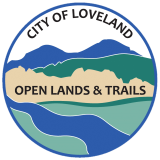 City of Loveland Open Lands and Trails
Headquarters Location
500 E 3rd St Suite 200
Loveland, CO 80537
United States
Focus Area
Land Management
Parks and Recreation (including interpretation/education)
Opportunity Type
Seasonal jobs - spring/winter/fall
Seasonal jobs - summer
Unpaid internships
Volunteer positions
Ages Served
17, 18, 19, Post-High School
The Loveland Parks & Recreation Open Lands & Trails Division is committed to improving local and regional conservation and connectivity through trail access and the preservation of important wildlife habitat and natural resources for the enjoyment of our community. The Open Lands & Trails program has preserved over 5,000 acres of open space in and around Loveland. In 1995, the citizens of Larimer County approved the 1/4-cent Help Preserve Open Space sales tax to protect open space, natural areas, wildlife habitat, regional parks and trails. In 2014, voters overwhelmingly supported the extension of the tax until 2043. Loveland receives a portion of these funds, as well as a dedicated Open Lands Capital Expansion Fee (CEF), for the acquisition, development and management of open space in and around Loveland.
MISSION STATEMENT: To identify, preserve, protect, connect and enhance open space, natural areas, trails and wildlife habitat to promote the enjoyment of outdoor activities while advancing environmental stewardship, environmental education and outdoor experiences.
At this time we provide an opportunity to "try on" various positions within Parks and Recreation. In order to fulfill the community college hours requirements within the limited time frame, students often get to explore multiple divisions within our department.
Work Examples
Working with our Public Outreach volunteers and staff
Train to become an Environmental Educator
Work with our site assessment coordinator (inventory presence of natural and cultural resources)